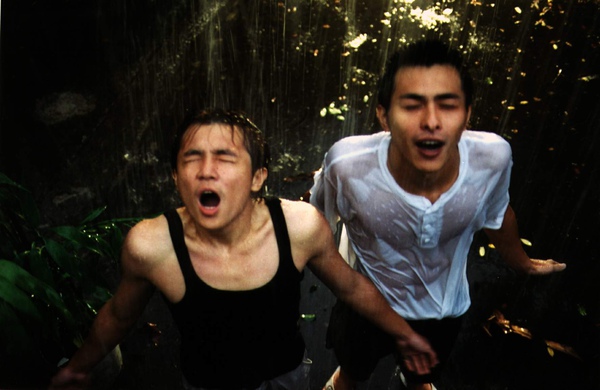 熱血青春或許終將因命運的捉弄而洗染變色
心中的美麗時光卻能撫慰心靈的愴痛
在死生交替的瞬間
讓一切回歸原始的純真…
美麗時光—The Best Of Times
詳細內容↓
http://www.changfilm.com.tw/work/besttimes/b_home.html
SYNOPSIS
Wei, 19, lives in the suburbs of Taipei with his father, grandmother and two sisters, Min and Dudu. He works as a parking valet at a nightclub owned by the gangster Brother Gu. His best friend is his one-time classmate Jie, who lives next door with his father and his retarded elder brother Kee. The volatile Jie is obsessed with conjuring tricks. Hew earns a little money playing percussion with a troupe which performs at temple ceremonies; he looks to the more stable Wei to find him a real paying job.
Wei has a tight bond with his twin sister Min, who is stuck in the house trying to recover from leukemia. Min was rebellious when she was younger and ran away to live with the gangster Brother Tse in Yilan. But six months ago, when she was diagnosed with the same cancer which killed her mother, she came back home for a course of chemotherapy. She kills time painting pictures and looking after a tank of tropical fish. Wei tries to spend time with her, and increasingly often finds himself sharing her feelings of dizziness and nausea – as if they have some inexplicable physical-mental bond.
Jie's father is a mainlander originally from Shandong Province. He came to Taiwan as a young soldier when the KMT Army retreated to the island in 1949, and he will never forgive the Taiwan government for neglecting and undervaluing its retired servicemen. He is a devout Christian; he has put up a light in the alley alongside his home to illuminate the Biblical text "He is the way, the truth and the light", posted on the wall below. One of Jie's tasks is to replace the light bulb whenever it fails.
Pushed by Jie, Wei approaches Brother Gu's lieutenant Brother Hua to ask for a more responsible job. Both boys are taken on as debt collectors for Gu's underground casino. Since they get on well, they are soon rewarded with a handgun – and a single bullet. But having the gun goes to Jie's head, and he begins waving it around recklessly in public. The boys try to collect a bad debt from a gangster known as Brother Hsu, and when Jie brandishes the gun in Hsu's face they suddenly find themselves outnumbered and outclassed. A fight starts and in the melée Brother Hsu challenges Jie to shoot him. The gun is fired. Brother Hsu lies dead. The boys run for their lives.
Disowned by Brother Gu, Wei calls his sister Min's former lover Brother Tse for help. Tse picks up the boys and drives them to his mother's guest house in Yilan, where they shelter overnight. But the morning brings news that Min has died at home, and so Tse sends the boys back to Taipei in a hired car. They are making their way home through the alleys near their homes when they are intercepted by vengeful members of Hsu's gang. Jie is beaten and shot; Wei manages to get him to hospital.
Next day, as Wei's family prepares for Min's funeral, word comes that Jie has died. Wei wanders aimlessly in town, happens to see Jie's killers and manages to hit one of them on the head with a brick and get away. But as he runs through the alleys near home, he suddenly finds history repeating itself. He sees Jie attacked by Hsu's men, and this time intervenes to fight them off and carry Jie to safety. This time they take a different route in the hope of getting away … but soon find themselves trapped on a quay next to a canal. As the members of Hsu's gang close in, the two boys jump into the water. To their delight and amazement, they find that they can swim and breathe like fishes …